INDORE, MAHARAJA OF

Neg. No: 7562

Neg. Size: 15"x12"

Neg. Date: 27-9-1913


Sitter: Tukoji Rao Holkar, Maharaja of Indore (1890-1978).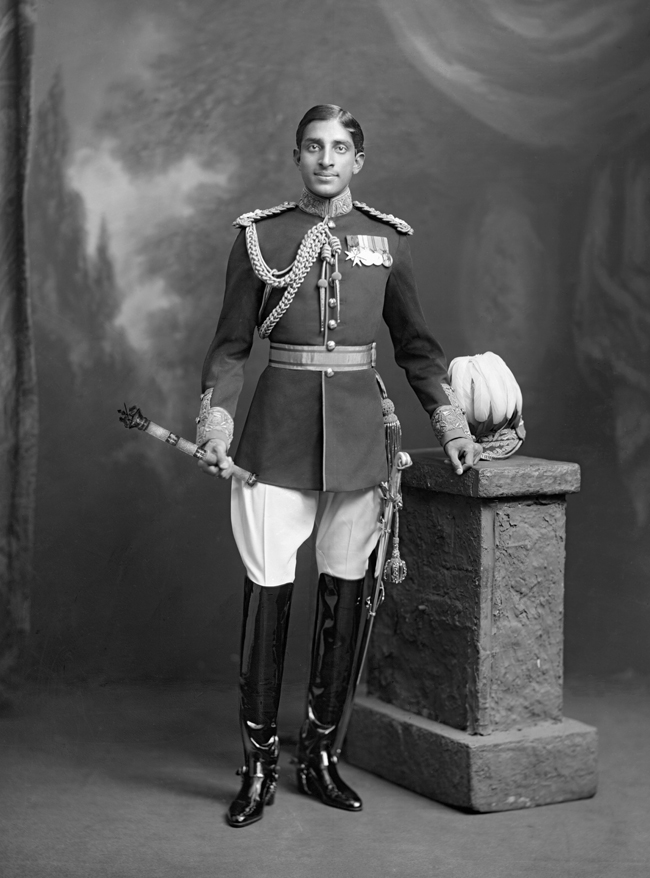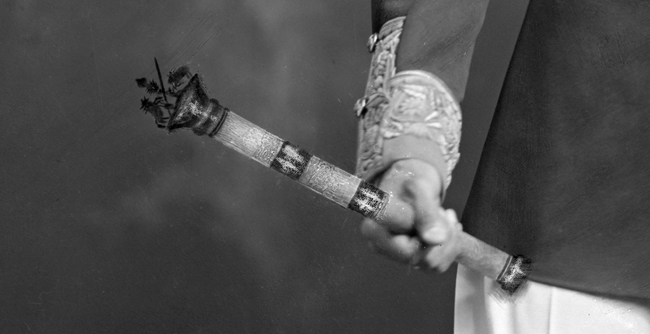 Image published in The Lafayette Studio
and Princely India, Roli Books, New Delhi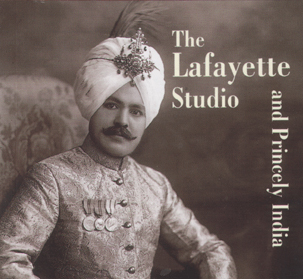 Biog: H.H. Maharajadhiraja Raj Rajeshwar Sawai Shri Sir Tukoji Rao III Holkar XIII Bahadur, Maharaja of Indore, GCIE (1.1.1918). b. at Maheshwar, 26th November 1890, eldest son of H.H. Maharajadhiraja Raj Rajeshwar Sawai Shri Sir Shivaji Rao Holkar XII Bahadur, Maharaja of Indore, GCSI, by his third wife, H.H. Maharani Shrimant Akhand Soubhagyavati Sita Bai Sahiba. Educ Mayo Coll., Indore and with Imperial Cadet Corps, Dehra Dun. Succeeded on the abdication of his father, 31st January 1903. Attended the Coronation of HM The King-Emperor George V, 1911 (Coronation Medal). DGBStJ (28.11.1912). Field Marshal and C-in-C, Indore State Forces. Abdicated in favour of his only son, 26th February 1926.
Married
| | |
| --- | --- |
| | (firstly) at Indore, 16th March 1895, H.H. Maharani Shrimant Akhand Soubhagyavati Chandravati Bai Sahiba (d. 1937), daughter of Shrimant ……. Rao Gawade. |
| | (secondly) at Indore, 8th December 1913, H.H. Maharani Shrimant Akhand Soubhagyavati Indira Bai Sahiba, daughter of Rao Bahadur Anandrao Talcharkhar, of Bombay. X (thirdly), at Barwada, 11th March 1928, H.H. Maharani Shrimant Akhand Soubhagyavati Sharmishtha Bai Sahiba alias Nancy Anne Miller, of Seattle, Washington, USA. He d. 21st May 1978 had issue one son and three daughters. |

Date: 27 September 1913.
Occasion: Visit to Europe.
Location: The Lafayette Studio, 179 New Bond Street, London.
Descr: FL standing.
Costume: (Mace with coat of arms of Indore.) [He seems to be wearing a uniform modelled on that of a British Staff Officer in the Edwardian period (which was a red tunic with gold embroidery facings), though the ends of his cuffs seem to be a paler shade than the rest of the tunic (which was not the case for the British uniform). His helmet has a chin strap (not so for British officers). The baton has the crest of Indore at the top (cf portrait published in The Sphere, 28 May 1938).]
In circa 1889 the Imperial Service Scheme, later known as the Indian States Forces scheme, was established to help train, upgrade the equipment, education of officers, etc. of these forces. By the time of the Great War some forces were of very high quality, especially Kashmir, Jodhpur, Gwalior, etc. and participated in that war with great distinction. The forces that were accepted as part of the scheme, usually the more efficient and modern, were listed in the Indian States Forces Lists published by the Government of India until 1946 and available at the British Library (India Office Library Section). These annual lists were very similar to the Army List or Indian Army List, with lists of units, officers, strengths, information on colours, uniforms, etc.

The Maharajas, Nawabs, Rajas, etc. exercised sovereign rights within their own states. They were, in modern American terms, Commanders-in-Chief of these armies. Technically, they could therefore call themselves whatever they liked within their territories, although the Government of India, acting on behalf of their Emperor, tried to discourage some of their more grandiose efforts e.g.. Gwalior or Alwar called himself the ruler of the world!

Many rulers increasingly modelled themselves along British Royal lines. In time, they began to assume and confer British military ranks. By the early thirties the States Forces lists began to record members of Indian ruling houses who were Colonels and Colonels-in-Chief of Regiments, Generals, etc. In the case of Indore the Indian State Forces Lists in the early 1940's show one Field Marshal - H.H. The Maharaja Holkar.

Information provided by Christopher J Buyers , The Royal Ark http://www.dreamwater.net/regiment/RoyalArk/royalark.htm

Later portrait of the Maharajah by Lafayette [undated]

Lieut-General Sir George MacMunn, The Indian States and Princess, London, 1936
Orders, Decorations & Medals:
(1) Donat of The Order of St. John of Jerusalem [The ribbon for this badge should be a black watered ribbon with a central white stripe, although this is cannot be detected in this portrait.]

(2) Unidentified.

(3) Coronation Medal, 1911.

(4) Delhi Durbar Medal, 1911.
Furniture & Props: Painted backdrop.

Photographer: Lafayette Ltd., 179 New Bond Street, London.

Evidence of photographer at work: -

No of poses: 1.

Copyright: V&A

All images on this site are copyright V&A. For further information on using or requesting copies of any images
please contact the V&A Picture Library: vaimages@vam.ac.uk including the URL of the relevant page

Provenance: Pinewood Studios; acquired 1989.

References:
Biog: Who's Who.
Occasion: Who's Who.
Costume: A.N. McClenaghan, Editor, Durbar Magazine.
Orders, Decorations & Medals: (1) Charles W. Tozer, The Insignia and Medals of the Grand Priory of the Most Venerable Order of the Hospital of St. John of Jerusalem, London, 1975, pp 16-17. (3) Howard N. Cole, Coronation and Royal Commemorative Medals 1887-1977, London, 1977. (4) A.R. Litherland & B.T. Simpkin, Spink's Standard Catalogue of British and Associated Orders, Decorations & Medals, London, 1990, p 152.
Reproduced: -

Acknowledgements: (Costume) A.N. McClenaghan, Editor, Durbar Magazine; Christopher Buyers.