HOOD, HON G

Neg. No: GP (L) 1354

Neg. Size: 15"x12"

Neg. Date: 03-07-1897


Sitter: Lieut. Hon. Grosvenor Arthur Alexander Hood, later Lieut. Colonel, 5th Viscount Hood (1863-1933).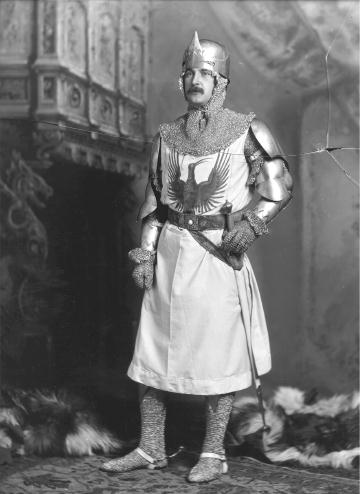 Biog: Soldier: 2nd Lieutenant, Royal Artillery; Major, Grenadier Guards; Lieutenant-Colonel commanding 7th Battalion, The London Regiment; Defence Commandant, Lines of Communication 1914-1918.
Role: Sir Galahad.
Date: 2 July 1897.
Occasion: The Devonshire House Ball, 2 July 1897.
Location: Devonshire House, Piccadilly, London, W.
Descr: FL standing.
Costume: -
Costume Supplier: -
Furniture & Props: Painted backdrop; studio Persian rug.

Photographer: The firm of J. Lafayette, 179 New Bond Street, London, W.

Evidence of photographer at work: -

No of poses: 1.

Copyright: V&A

All images on this site are copyright V&A. For further information on using or requesting copies of any images
please contact the V&A Picture Library: vaimages@vam.ac.uk including the URL of the relevant page

Provenance: Pinewood Studios; acquired 1989.

References:
Biog: Burke's Peerage; Who's Who; The Times, 27 April 1933, p 14; A. Winton Thorpe, ed., Handbook to The Most Excellent Order of the British Empire, (facsimile edition), London, 1988
Role: Truth, 8 July 1897, p 107b; The Court Journal, 10 July 1897, p 1248c; The Gentlewoman, 10 July 1897, p 56a; The Queen, 10 July 1897, p 76c.
Occasion: Sophia Murphy, The Duchess of Devonshire's Ball, London, 1984.
Costume: -
Costume Supplier: -
Photographer: The Daily Telegraph, 3 July 1897, p 9f; Black & White, 10 July 1897, p 38b.
Reproduced: Devonshire House Fancy Dress Ball, July 2 1897: A Collection of Portraits in Costume of Some of the Guests, privately printed, 1899, p 159, (National Portrait Gallery Archives).

Acknowledgements: