FREEMANTLE, ADMIRAL HON. SIR E.
Neg. No: (GP) 3374A
Neg. Size: 12"x10"
Neg. Date: 20-03-1906


Sitter: Admiral Hon. Sir Edmund Robert Fremantle (1836-1929).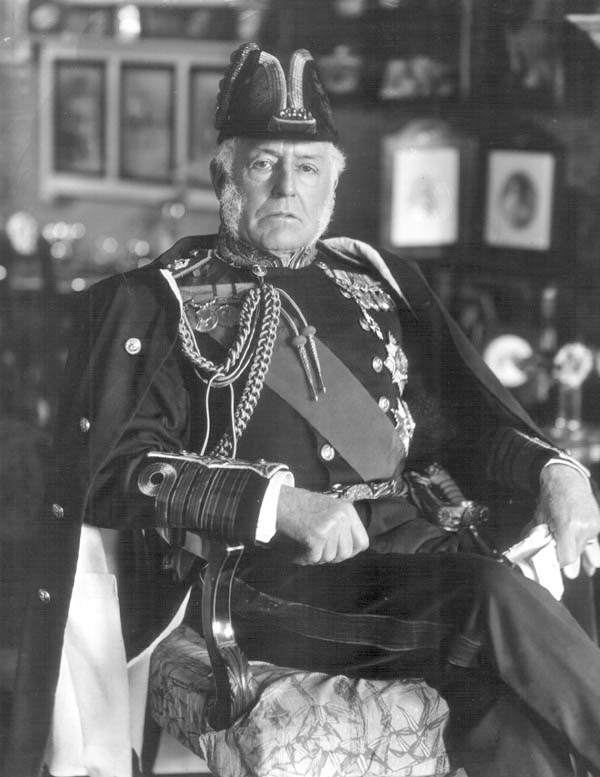 Biog: 4th son of 1st Baron Cottesloe; Rear Admiral, 2nd-in-Command, Channel Squadron, 1886-87; Commander-in-Chief, East Indies, 1888-91; Commander-in-Chief, China, 1892-95; Commander-in-Chief, Plymouth, 1896-99; Admiral, 1896; Rear Admiral of the United Kingdom, 1901-1929.
https://en.wikipedia.org/wiki/Edmund_Fremantle
Date: 20 March 1906.
Occasion: -
Location: -
Descr: TQL seated.
Costume: Full Dress uniform, Admiral, Royal Navy.
Orders, Decorations & Medals: Star, sash and badge (not visible) of a Knight Grand Cross of the Order of The Bath (military division) [G.C.B. cr. 1899]; star of the Order of the Crown (1st class, cr. 1890) [Prussia]; star of the Order of the Brilliant Star (1st class, cr. 1890) [Zanzibar]; badge of a Commander of the Order of St. Michael & St. George [C.M.G. cr. 8 May 1894]; Queen Victoria Jubilee medal; Coronation medal, 1902; India General Service medal 1854-95 with clasp, 'Pegu'; New Zealand medal 1860-66; Ashantee medal 1873-74 with clasp, 'Witu 1890'; Royal Humane Society , bronze medal; Royal Humane Society, silver medal; Royal Humane Society, 'Stanhope' medal; Shipwrecked Fishermen & Mariners Royal Benevolent Society medal.
Furniture & Props: -

Photographer: Lafayette Ltd., 179 New Bond Street, London.

Evidence of photographer at work: -

No of poses: 1.

Copyright: V&A

All images on this site are copyright V&A. For further information on using or requesting copies of any images
please contact the V&A Picture Library: vaimages@vam.ac.uk including the URL of the relevant page

Provenance: Pinewood Studios; acquired 1989.

References:

Biog: Dictionary of National Biography; Burke's Peerage; Who's Who; The Navy List, 1906; The Times, 12 February 1929, p 9a; (See also Sir E.R Fremantle, The Navy as I Have Known It, 1849-1899, London, 1904; A. Parry ed., The Admirals Fremantle, London, 1971).

Occasion: -

Costume: -

Orders, Decorations & Medals: (Orders of the Bath and St. Michael & St. George) Burke's Peerage; (Orders of the Crown and The Brilliant Star) R. Werlich, Orders and Decorations of All Nations, Washington, 1990; (Jubille and Coronation medals) Howard N. Cole, Coronation and Royal Commemorative Medals 1887-1977, London, 1977; (campaign medals) E.C. Joslin, A.R. Litherland & B.T. Simpkin, British Battles & Medals, London, 1988; (others) A.R. Litherland & B.T. Simpkin, Spinks Standard Catalogue of British and Associated Orders, Decorations & Medals, London, 1990.

Reproduced: -

Additional Information: -

Acknowledgements: -