FORSDYKE, MRS. C.
Neg. No: (GP) L 8697
Neg. Size: 15"x12"
Neg. Date: 02-06-1921


Subject: Mr. & Mrs. Charles Frederick Forsdick, wedding portrait.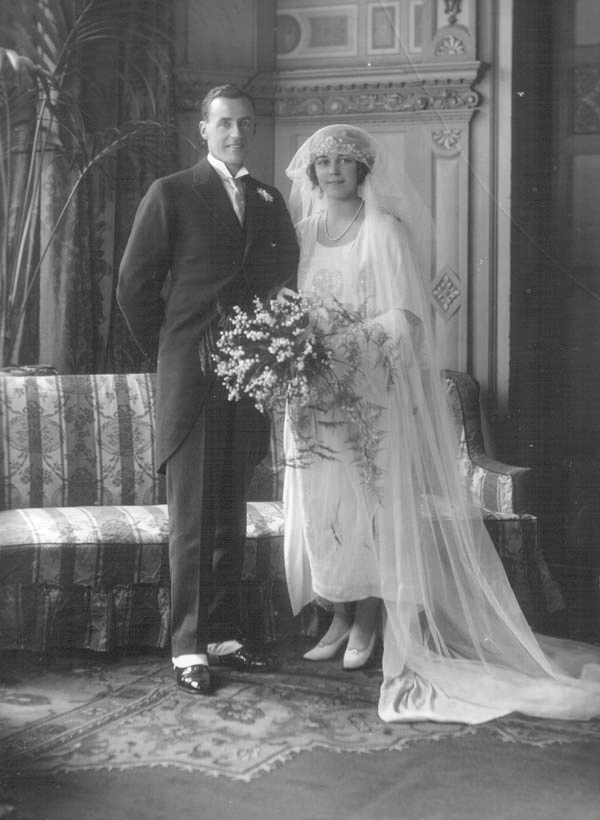 Sitters:
(Bride-groom) Charles Frederick Forsdick (), son of William Forsdick, of Auckland, New Zeland.
(Bride) Mrs. Charles Frederick Forsdick, née Enid Mary Kathleen O'Connor (), daughter of Maurice O'Connor of Ballygunge, St. Georg's-hill, Weybridge and of Ballygunde, Calcutta; m. (1921) Charles Frederick Forsdick.
Date: 2 June 1921.
Occasion: The marriage, 2 June 1921, at St. Margaret's, Westminster.
Location: Unknown, but set suggests The Claridge's Hotel, a place of reception.
Descr: FL standing.
Costume: Wedding dress:
"...a pearl embroidered gown of ivory Roman crepe with a train of the same material, over which was draped an old Brussels needlepoint veil hung from the shoulders. Her tulle veil was held in place by a coronet of orange blossom, and the bouquet of lilies-of-the-valley was tied with tulle streamers" (see: The Times, 3 June 1921, p 15c).
Costume Designer: -
Costume Supplier: -
Jewellery: -
Furniture & Props: Set suggesting the interior of Claridge's Hotel.

Photographer: Lafayette Ltd., 160 New Bond Street, London.

Evidence of photographer at work: -

No of poses: 1.

Copyright: V&A

All images on this site are copyright V&A. For further information on using or requesting copies of any images
please contact the V&A Picture Library: vaimages@vam.ac.uk including the URL of the relevant page

Provenance: Pinewood Studios; acquired 1989.

References:

Biog: -

Occasion: The Times, 3 June 1921, p 15c.

Costume: The Times, 3 June 1921, p 15c.

Costume Designer: -

Costume Supplier: -

Jewellery: -

Reproduced: -

Additional Information: -

Acknowledgements: -