MAXWELL, HON. A.K.
Neg. No: 2213A
Neg. Size: 15"x12"
Neg. Date: 02-12-1899


Sitter: Arthur Kenlis Maxwell, 11th Baron Farnham (1879-1957).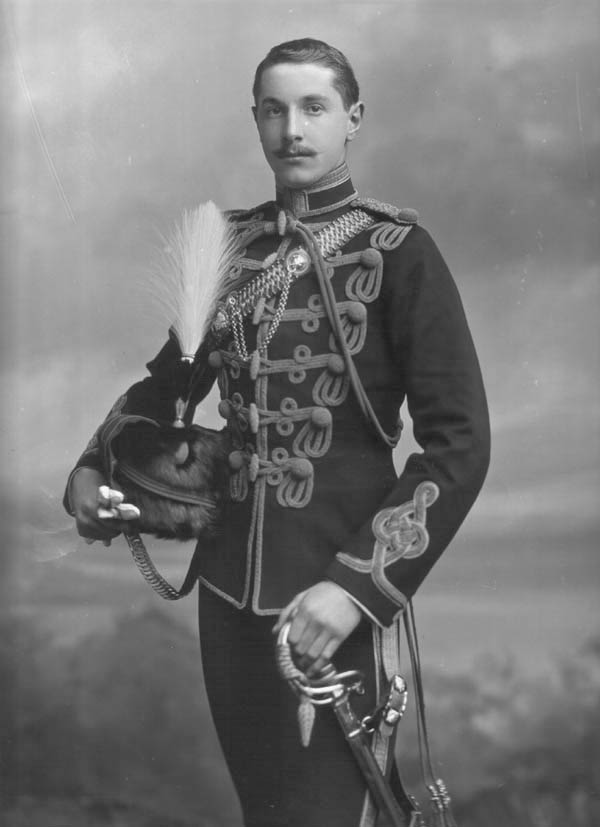 Biog: Lieutenant, 10th Hussars; Irish Representative Peer since 1908; Lieutenant-Colonel, North Irish Horse.
Date: 2 December 1899.
Occasion: -
Location: The Lafayette Studio, 179 New Bond Street, London.
Descr: TQL standing.
Costume: Levée Dress, 2nd Lieutenant, 10th (Prince of Wales's Own Royal) Hussars.
Black sable fur busby with a gold gimp oval cockade in the centre in front. The ostrich feather - no more than 15" high from the top of the busy and held by a vulture feather bottom in a corded gilt ball socket with four upright leaves.

The tunic of blue cloth. On each side of the breast six loops of gold chain gimp, with caps and ropes fastening with gold-worked olivets and an Austrian knot of gold chain gimp on each sleeve.

Shoulder belt of black patent leather, with metal chain ornament.

Levée Dress pantaloons - scarlet with a gold chain gimp down the outside seams.

Hessian boots, edged round the top with gold gimp lace terminating in an oval boss in front. Straight spurs with dummy rowels, silver plated. Cavalry pattern sword in a steel scabbard.
Furniture & Props: Painted backdrop.

Photographer: Lafayette Ltd., 179 New Bond Street, London.

Evidence of photographer at work:

No of poses: 2.

see also:

Copyright: V&A

All images on this site are copyright V&A. For further information on using or requesting copies of any images
please contact the V&A Picture Library: vaimages@vam.ac.uk including the URL of the relevant page

Provenance: Pinewood Studios; acquired 1989.

References:

Biog: Burkes' Peerage; Who's Who; The Army List, 1899; The Times, 6 Febuary 1957, p 11c.

https://en.wikipedia.org/wiki/ Arthur_Maxwell,_11th_Baron_Farnham

Occasion: -

Costume: Dress Regulations for the Army, London, 1900.

Reproduced: -

Additional Information: -

Acknowledgements: -