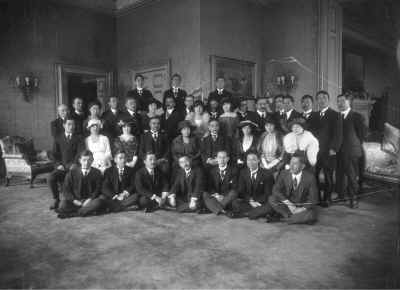 Sitter: Chinda, Sutemi, Count (1856-1929)
Biog: Japanese diplomat and statesman
Sutemi Chinda was born December 24, 1856 at Hirosaki, Aomori Prefecture, Japan and died in Japan, January 16, 1929. He married (Miss) Sato in 1882, and they had a son, Hideho. After graduating from Indiana Asbury University (DePauw, A.B. 1881, A.M. 1884), Chinda returned to Japan, where he entered the foreign service. He later served as Ambassador to Germany (1908-1911), to the United States (1911-1914) and to England (1914-1920). He also served as Japan's representative to the Paris Peace Conference in 1918 and was serving as Lord Chamberlain to the Emperor at the time of his death.

Also: In the summer of 1877 four Japanese young men arrived in Greencastle, sent to study at the university by Asbury alumnus John Ing, who directed a mission school in Hirosaki, Japan. All were professed Christians of the samurai class with little financial resources, but willing to work.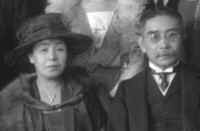 Date: 20 August 1910
Occasion: -
Location: -
Descr: FL group
Costume: -
Jewellery: -
Furniture & Props: -

Photographer: Lafayette Ltd
Evidence of photographer at work: -
No of poses: 2
Copyright: V&A Provenance: Pinewood Studios; acquired 1989.

References
Biog: Who's Who; The Japan Year Book for 1923, Tokyo, ND
Occasion:
Costume:
Jewellery:
Reproduced:

Additional information:

Acknowledgements: