Sitter: Henry Chaplin, later 1st Viscount Chaplin (1840-1923).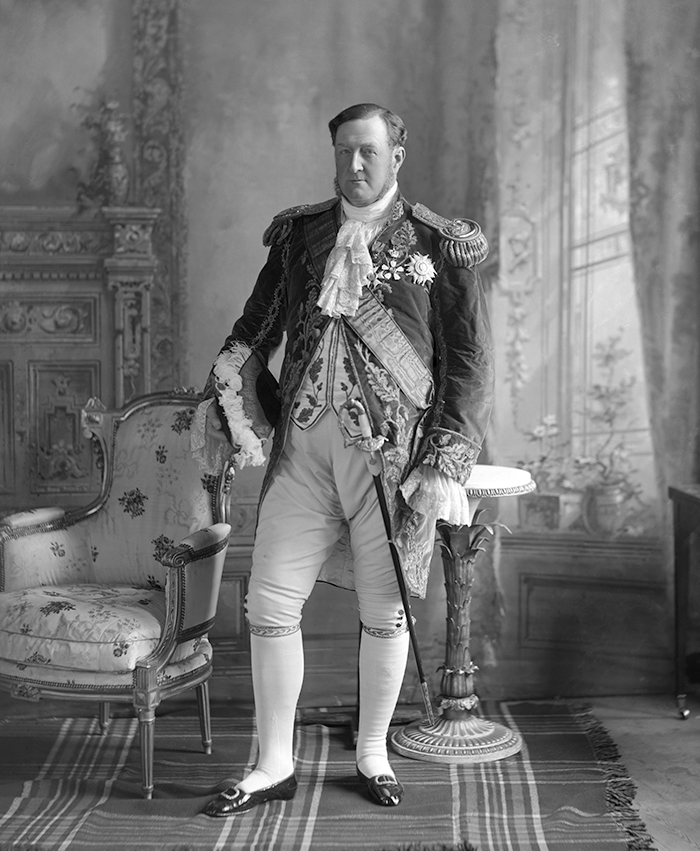 Biog: Politician and sportsman; m (1876) Lady Florence Leveson-Gower (d 1881), eldest daughter of 3rd Duke of Sutherland.
Role: General Lefebvre.(1)
Date: 24 August 1897.
Occasion: The Devonshire House Ball, 2 July 1897.
Location: Probably Stafford House, St James's (now known as Lancaster House).
Descr: FL standing.
Costume: "...a coat, open in the front and reaching to the knees, of royal blue velvet, heavily embroidered at the front, back, and sleeves with gold oak-leaf embroidery. A crimson sash, worn over the right shoulder, was tied in a bow with the Cross of the Legion of Honour attached. The head-dress was a black velvet cocked hat with gold braiding and feathering, and tricoloured cockade." (The Standard, 3 July 1897, p 4e).
Orders, Decorations and Medals: Star, badge and red sash of the French Order of the Legion of Honour.(2)
Accessories: Dress sword.
Furniture & Props: Painted backdrop; a Louis XVI-style gilt bergère; a regency marble and parcel-gilt wood (or metal) occasional table in the Brighton Pavilion style.

Photographer: The firm of J. Lafayette, 179 New Bond Street, London, W.

Evidence of photographer at work: Base of clamp visible behind sitter; reflector screen visible in top right corner.

No of poses: 2 (This negative marked as a reject , but see neg no 1539A)

Copyright: V&A

All images on this site are copyright V&A. For further information on using or requesting copies of any images
please contact the V&A Picture Library: vaimages@vam.ac.uk including the URL of the relevant page

Provenance: Pinewood Studios; acquired 1989.

References:
Biog: John Boon, Victorians, Edwardians, and Georgians, London, 1928, vol 1, pp 141-143; Dictionary of National Biography; Burke's Peerage; Who's Who; The Times, 30 May 1923, pp 9a & 15d; A Foreign Resident [T.H.S. Escott], Society in London, London, 1885, pp 125-126; Henry Custace, Riding Recollections, London, 1894; Hon. G. Lambton, Men and Horses I Have Known, London, 1924; Marchioness of Londonderry, Henry Chaplin, London, 1926; Helen Radnor, From a Grandmother's Armchair, London, 1927; Henry Blyth, The Pocket Venus, London, 1966; George Plumtre, The Fast Set: The World of Edwardian Racing, London, 1985.
Occasion: Sophia Murphy, The Duchess of Devonshire's Ball, London, 1984.
Location: See post office directories c 1897. See also: John Cornforth, "Stafford House Revisited", Country Life, 7 & 14 November 1968; David Pearce, London's Mansions: The Palatial Houses of the Nobility, London, 1986, p 194 ff; Christopher Simon Sykes, Private Palaces: Life in the Great London Houses, London, 1985. (Information on negative "The sitter's own house").
Role and Costume: (Role only) The Times, 3 July 1897, p 12d; (Costume) The Daily Telegraph, 3 July 1897, p 10a; The Standard, 3 July 1897, p 4e; Truth, 8 July 1897, p 108b; The Gentlewoman, 10 July 1897, p 56 [sketch] & 58b.
Orders, Decorations and Medals : A.G. MacDonnel, Napoleon and His Marshals, London, 1934; R. Werlich, Orders and Decorations of All Nations, Washington, 1965.
Reproduced: (Version) Devonshire House Fancy Dress Ball, July 2 1897: A Collection of Portraits in Costume of Some of the Guests, privately printed, 1899, p 96, (National Portrait Gallery Archives).

Acknowledgements: (Props) Lark Mason Jr, Sotheby's, New York.

1. (Pierre-)François-Joseph Lefebvre, duc de Danzig (1755-1820), Marshal of France. (For Mareschal Lefebvre in contemporary drama see Madame Sans Gêne, a comedy by Victorien Sardou and Emile Moreau, first performed Paris 1893; adaptation by J. Comyns Carr, first performed, London, Lyceum Theatre, 10 April 1897.)
2. The Légion d' Honneur was awarded to Marshal Lefebvre in 1804.