BAILLIE, HON. A
Neg. No: (GP) L7872

Neg. Size: 12"x10"

Neg. Date: 04-06-1923


Sitter: The Honourable Arthur Malcolm Augustus Baillie (1896-1963).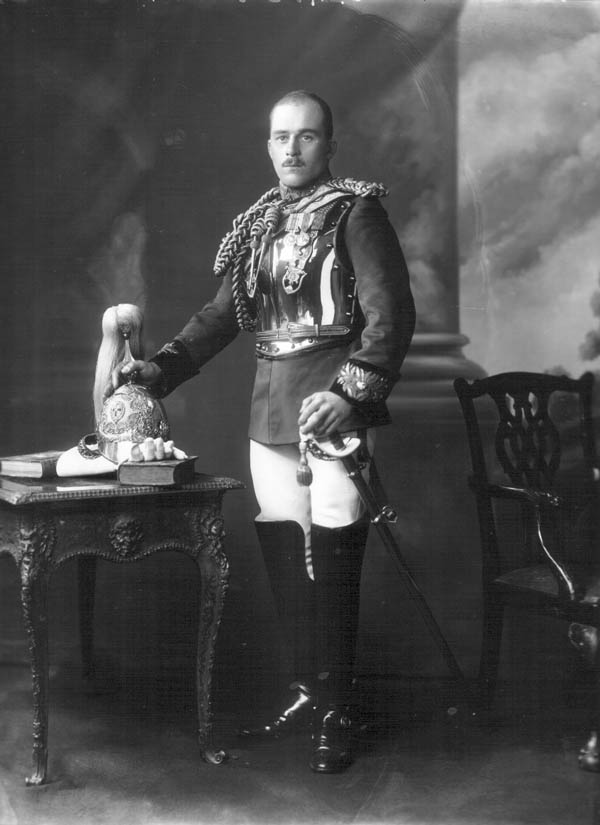 Biog: 2nd son of 2nd Baroness Burton; joined Royal Artillery 1914, transferred 1st Life Guards 1919; Major, The Life Guards.
Date: 4 June 1923.
Occasion: The King's Levée, 4 June 1923; presented by the Gold Stick in Waiting, Major-General the Hon. Sir C. E. Bingham.
Location: 160 New Bond Street, London.
Descr: FL standing.
Costume: Full Dress uniform (Mounted Review Order), Lieutenant, Life Guards.
Orders, Decorations & Medals: British War medal, 1914-20; Allied Victory medal, 1914-1919; Watered moire ribbon.
Furniture & Props: Painted backdrop; side table; carver.

Photographer: Lafayette Ltd., 160 New Bond Street, London.
Evidence of photographer at work: -
No of poses: 1.
Copyright: V&A
All images on this site are copyright V&A. For further information on using or requesting copies of any images
please contact the V&A Picture Library: vaimages@vam.ac.uk including the URL of the relevant page

Provenance: Pinewood Studios; acquired 1989.

References:
Biog: Burke's Peerage; The Army List, 1923; The Times, 16 February 1963, p 10g.
Occasion: The Times, 5 June 1923, p. 19d.
Costume: Dress Regulations for the Army, London, 1911.
Orders, Decorations & Medals: E.C. Joslin, A.R. Litherland & B.T. Simpkin, British Battles & Medals, London, 1988.
Reproduced: -

Acknowledgements: -