BADEN POWELL, W. ESQ. KC

Neg. No: 4407A

Neg. Size: 12"x10"

Neg. Date: NONE


Sitter: Warington Baden-Powell (1847-1921).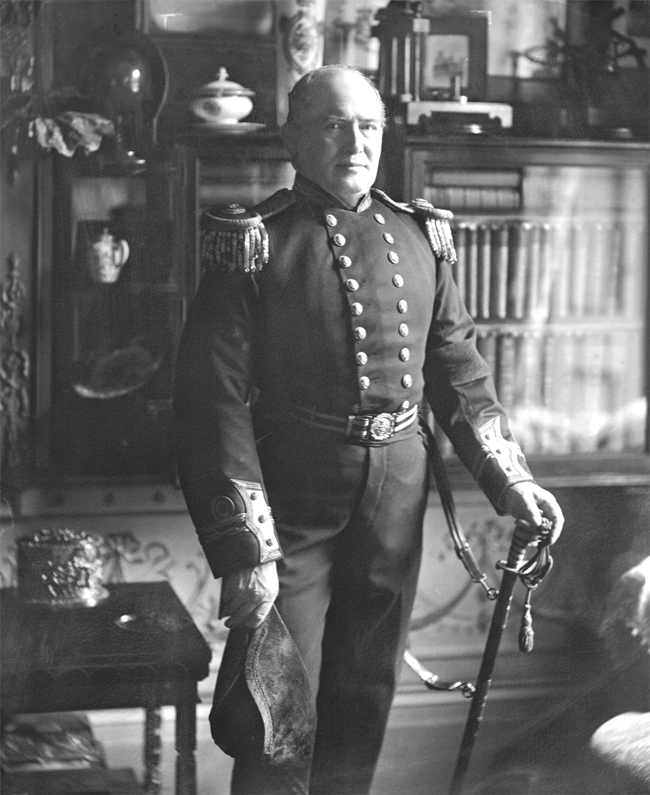 Biog: K.C.; Lieutenant Royal Naval Reserve.
Henry Warington Smyth Baden-Powell

Known as Warington within the family, he was B-P's oldest brother. Early in his career he qualified as a Master Mariner and was commissioned a Lieutenant in the Royal Navy Reserve. Interest in small boats (as described by B-P in his autobiography, Lessons from the Varsity of Life) led him to a fascination with canoes. In 1871, at the age of 24, he paddled and sailed a canoe on a cruise around the Baltic Sea that included stops in Germany, Denmark and Sweden as described in his book, Canoe Travelling, published in 1871.

The sea stood at the center of his life. After becoming a Barrister in 1876, he was admitted to the Admiralty Bar and became a member of several important organizations focused on the sea. He was admitted a Kings Counsel in 1872. Some details of his career are found in Robin Baden Clay's work on the Powell family history.

Henry Warington Smyth BADEN-POWELL
Born 3 Feb 1847.
Educated at St Paul's, 1857.
Qualified as Master Mariner.
Commissioned as Lieutenant, Royal Navy Reserve;
Fellow of the Royal Geographic Society (F.R.G.S.).
Barrister, Inner Temple, 1876.
Member of the Admiralty Bar.
Kings Counsel (K.C.), Admitted 26 April 1872.
Called Trinity Term 1876.
Member of the Shipwrights' Company.
Associate of the Institute of Naval Architects Council.
Member Yacht Racing Association.
Member Athenaeum Club.
Died 24 Apr 1921 at age 74.

Baden-Powell asked his brother Warington to head up the first specialized branch of the Boy Scouts. Warington Baden-Powell agreed, and Sea Scouting was officially organized in England in 1910. Warington then wrote the first official Sea Scout manual. It was called Sea Scouting and Seamanship for Boys. The manual sold well and Sea Scouting flourished. It was in that same year that Boy Scouts was organized in the United States.
Date: [c.1908]
Occasion: -
Location: -
Descr: TQL standing.
Costume: Full Dress uniform, Lieutenant, Royal Naval Reserve.
Furniture & Props: -

Photographer: -

Evidence of photographer at work: -

No of poses: 1.

Copyright: V&A

All images on this site are copyright V&A. For further information on using or requesting copies of any images please contact the V&A Picture Library: vaimages@vam.ac.uk including the URL of the relevant page

Provenance: Pinewood Studios; acquired 1989.

References:
Biog: Who's Who; The Navy List, 1884-1921; The Times, 28 April 1921, p 15c.
Occasion: -
Costume: -
Reproduced: -

Additional Information: -

Acknowledgements: -