Image published in:
Samochody Wytwornego Towarzystwa – Miodowe Lata Automobili 1902-1905
Automobiles of English High Society – The Honeymoon Years 1902-1905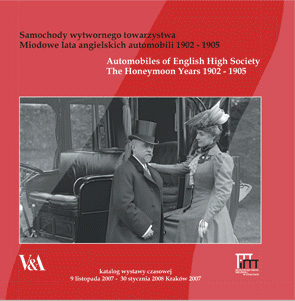 Mrs George Albu, (née Gertrude Rosendorff) later Lady Albu photographed in April 1905 at the wheel of her 25 hp, 6.3-litre C.G.V. (Charron, Girardot et Voight) motor car.
In 1888 she married George Albu (1857-1935), who as a young man of humble origins had left Germany to try his luck in South Africa. By the 1880s he was one of the wealthiest magnates in the diamond and gold industries – known as the "Randlords". Albu's company, the General Mining and Finance Corporation, through a series of mergers, formed the nucleus of today's global giant BHP Billiton. Although he was naturalized as a UK citizen in 1911 and created a baronet in 1912, he never settled in Britain despite owning a house in London. Instead in 1912 he bought a 40-room mansion ("Northwards") in Johannesburg, which had been designed in 1904 by the famous architect Herbert Baker. It remained the Albu family seat until 1951.
Lady Albu bore her husband six children and devoted herself to running a perfect home. To this day she is remembered as a great chatelaine, who did everything to very high standards. Always immaculately dressed (she was trained as a dressmaker!), Lady Albu ran her "Tuesday At Home" gatherings, which became a feature of Johannesburg's social life.She died on 18 April 1950.
In this photograph, taken on her 1905 visit to London, Mrs Albu is portrayed in her 25 hp, 6.3-litre C.G.V. with elegant straight-sided body and expensive upholstered seats. She was at this time one of the few ladies who actually learned to drive their own motor cars.Between December 1903 and the end of 1904 the French firmof Fernand Charron, Leonce Girardot and Carl Voigt, made only seventy-nine vehicles of this type (called the "H", with an engine capacity of 5.7 litres) and its slight variation (called the "H1", with its capacity increased to 6.3 litres). Among the customers who ordered these exclusive automobiles were the King of Portugal and the American industrialists Waldorf Astor and William Vanderbilt. One of these cars, acquired by Orly Roederer of the champagne house Louis Roederer and the same model as the Mrs. Albu's, has survived almost intact.
In the 1970s it was bought by the enthusiast Bryan Goodman, who published a valuable account of his careful restoration work. It was recently sold for almost €400,000.
A certain A.L. Allen, who purchased a 15 hp ver-sion through C.G.V.'s agent in London, praised his car for the quietness of its engine and the reliable ignition system in an article on C.G.Vs published in The Car Illustrated magazine in October 1903.
The C.G.V. firm,although a short-lived venture (1901-1906), almost immediately established a reputation for high-quality automobiles and for three consecutive years, 1902, 1903 and 1904, it was awarded the gold medal at the Paris Exhibitions. Their cars were based on the Panhard – well known to the three partners from their motor racing days – but much improved with their armoured wood frame and the firstever use of a water-jacketed carburettor. After 1906 Charron, Girardot and Voigt went their separa-te ways. Charron, who married a daughter of another French car-maker, Adolphe Clément, associated him-self with the Clément-Bayards factory and the cars he designed were sold under the Charron marque until 1930.
This photograph was reproduced in The Car Illustrated magazine on 3 May 1905.
Biog: Daughter of Max Rosendoff of Berlin; m 1888 Sir George Albu 1st Bt (cr. 1912) - Chairman and MD of the (Transvaal) General Mining and Finance Corporation, Ltd.
Date: 1 April 1905.
Occasion: Photograph for The Car Illustrated magazine.
Location: -
Descr: Exterior with 25 h.p. C.G.V. (Charron, Girardot et Voigt) motor car.
Costume: -

Photographer: Lafayette Ltd., 179 New Bond Street, London.

No of poses: 1

Copyright: V&A

All images on this site are copyright V&A. For further information on using or requesting copies of any images
please contact the V&A Picture Library: vaimages@vam.ac.uk including the URL of the relevant page

Provenance: Pinewood Studios; acquired 1989.

References:
Biog: -
Occasion: -
Costume: -
Motor Car: The Encyclopaedia of Motor Cars, London, 1986.
Reproduced: The Car Illustrated, magazine, Vol XII, No. 154, 3 May 1905, p 339-40.

Acknowlegements: Annice Collett, Librarian, The National Motor Museum, Beaulieu, Hants.